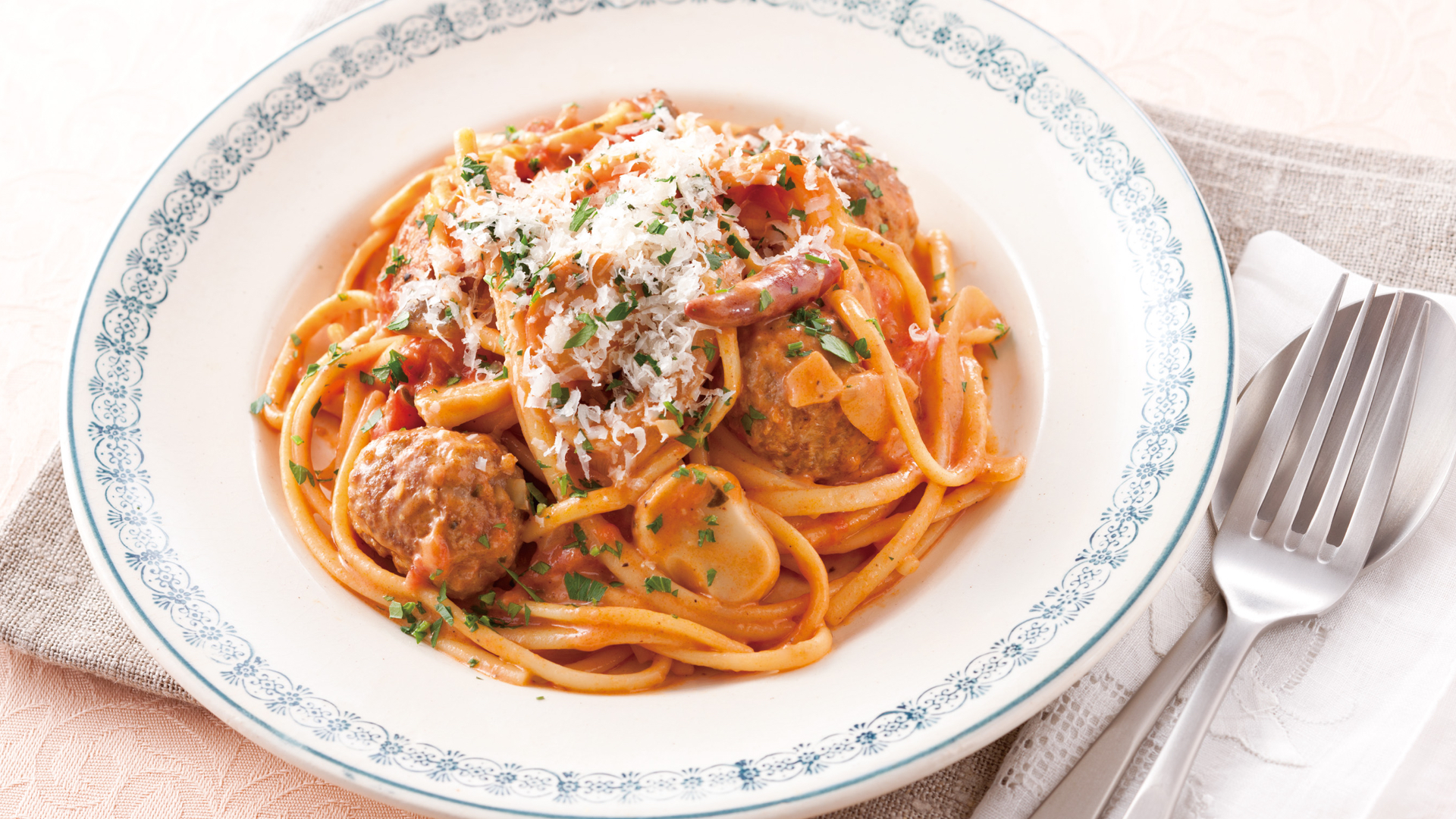 09 Apr

【Easy Italian dish using fresh ingredients】Linguine with tomato cream sauce
A classic pasta and soft meatball dish.
【Ingredients】6 servings
【Cooking time】30 minutes
【Energy】 452kcal per serving
Minched pork and beef   300g
Onion   1
Shimeji mushroom   1 pack (100g)
Eryngii mushrooms   1 pack (100g)
Garlic   1clove
Red pepper  1
Salt   1/3 teaspoon
Pepper  To taste
Nutmeg  To taste
Egg   1
[A]
Bread crumbs (dry)   30g
Water   50ml
Olive oil   2 tablespoon
[B]
Whole canned tomatoes   1 can(400g)
Water   500ml
Salt   1 teaspoon
Pepper  To taste
Oregano (dry)   To taste
Linguine spaghetti   300g
Fresh cream   50ml
Salt and Pepper   To taste
Parmigiano-Reggiano (grated)   To taste
Italian parsley (chopped)   To taste
Cut an onion in half, thinly slicing one half. Cut the bottom off the shimeji mush- room and cut the remainder into small pieces. Cut the eryngii mushrooms into round slices. Mince the garlic and remove seeds from the red pepper.
Put minced beef and pork in a bowl, then add salt, pepper, and nutmeg and knead. Add a beaten egg, mixed in the ingredients from part A, then add chopped onion and squeeze out any air. Separate into 24 balls.
Pour olive oil in a pan and set the temperature to 180°C. Add step 2, fry, and remove when browned.
Add garlic and red pepper on a low heat and when they begin to emit a fragrance, add the sliced onions, shimeji and eryngii mushrooms, then stir fry on a medium to strong heat.
Put part B into a pot in order, break the spaghetti in half and add. Cover with a lid and boil over a low heat for five minutes. Add the meatballs from step 3 and boil for a further five minutes before letting it rest for five minutes.
Add fresh cream and adjust the taste with salt and pepper. Serve in a bowl and garnish with Parmigiano-Reggiano and Italian parsley.
【Tokyo Gas Cooking Class】 Tokyo Gas provides the gas every kitchen needs to cook a good meal. Our mission is to enrich your life through the art of cooking.
The three essentials of Tokyo Gas Cooking Class
Each cooking class is an independent, stand-alone class. You can try out a recipe whenever you have some free time.
We believe that anyone can experience the joy of cooking.
Our lessons can teach you new things about Japanese culture and its aesthetics, time-saving recipes, eco-cooking, bread baking, sweets and more.
※ Classes are conducted in Japanese only.
Precautions for using gas stoves, grills and ovens
・ Always turn the ventilation fan on.
・ Read the instruction manual carefully to use the equipment correctly and safely.