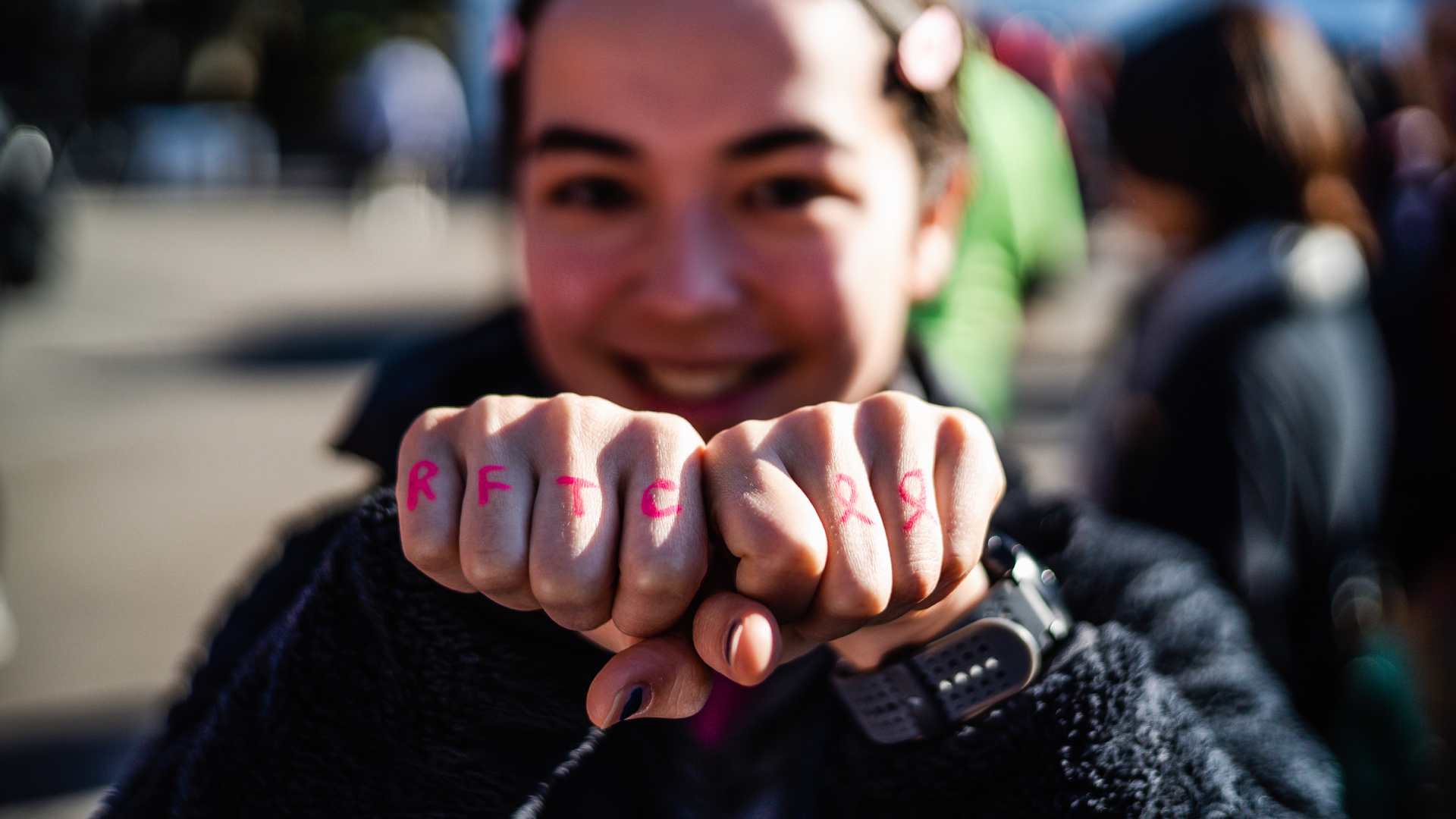 22 Mar

[Event Report] Run for the Cure Walk for Life 2020
Between Friday, December 4 and Monday, December 7, 2020, we held our Run for the Cure/Walk for Life 2020 (RFTCWFL) charity event. Now in its 18th year, the annual event is simple, but fun: participants donate ¥5,000 to enter, and then run or walk their selected event (10km run, 5km run or 3km walk). The donations are used to fund RFTC Japan's breast cancer educational outreach programs, as well as to cover the operating expenses of the organization.
Normally held in one day in Tokyo's Hibiya Park, this year RFTCWFL took place online over a period of four days in collaboration with the sports timing app SportSplits, in order to make social distancing easier and keep participants safe during the Covid-19 pandemic. Over those four days, participants could complete their run or walk at a time and place of their choosing. Runners could also use the app to measure their time, and compete with other runners by comparing results on the online leaderboard.
A total of 380 people took part, comprising 245 people from sponsor companies and 135 private individuals. Thanks to the event being conducted online, we were able to have participants from outside of Tokyo, such as Niigata, Ishikawa, Shiga, as well as overseas from places such as Hong Kong.
We also conducted a hashtag campaign on social media, encouraging our participants to post their photos with the hashtag "#rftcjapan2020". We were thrilled to see so many fun and exciting photos of people getting involved in RFTCWFL. Some walked with their families and pets, others took snaps of themselves jogging, and a few shared pictures of their numerous attempts to beat their personal best and climb up the leaderboard. Although we couldn't meet in person this year, the warmth, joy, and support that all of the pictures conveyed was very encouraging.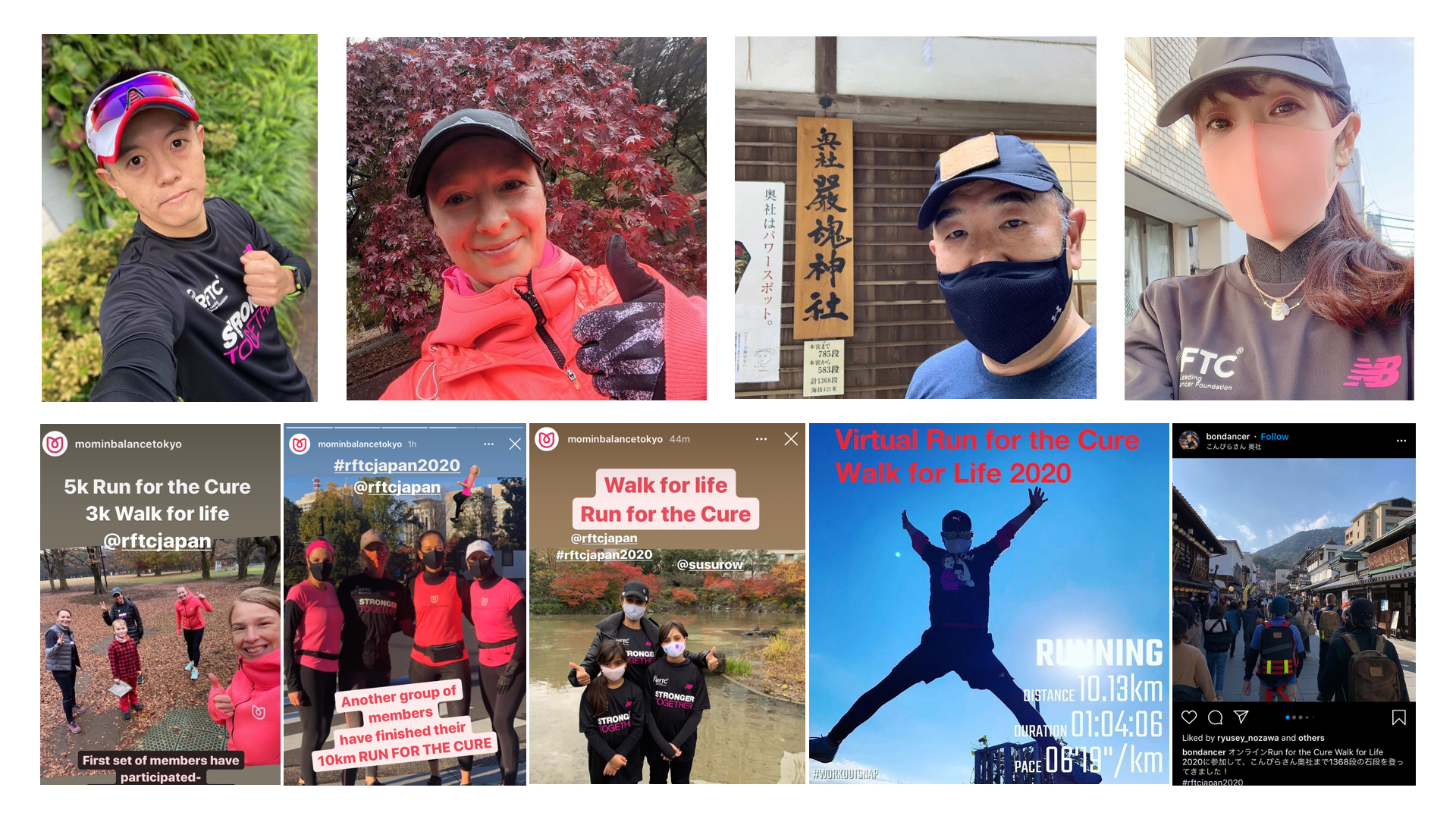 Breast cancer afflicts people indiscriminately, and it continues to affect more and more people in the midst of this pandemic. Although this is the first time that any of us have been through such a challenging time, it was inspiring to see so many people come together for the great cause of breast cancer awareness. Despite our physical distance, we are united in our belief in and passion for RFTC Japan's mission, and it was a reminder that, just as it is written on our official t-shirt, we are truly "Stronger Together".
We as a foundation learned many things through the course of planning and hosting Run for the Cure Walk for Life 2020. It was a new experience in almost every way, and it reminded us once more that it is thanks to the kindness and dedication of our sponsors and supporters that we are able to continue in our important mission.
We would like to express our sincere gratitude to everyone who helped make this event a success. As a token of thanks to everyone who took part in RFTCWFL, we mailed souvenir packages containing official RFTCWFL t-shirts, Kirkland Popcorn, and herbal tea, all of which were kindly donated by our generous sponsors New Balance Japan, Costco Wholesale Japan and Herbalife of Japan.
Run for the Cure Walk for Life 2021 will be held on December 4th. We look forward to seeing you again this year.