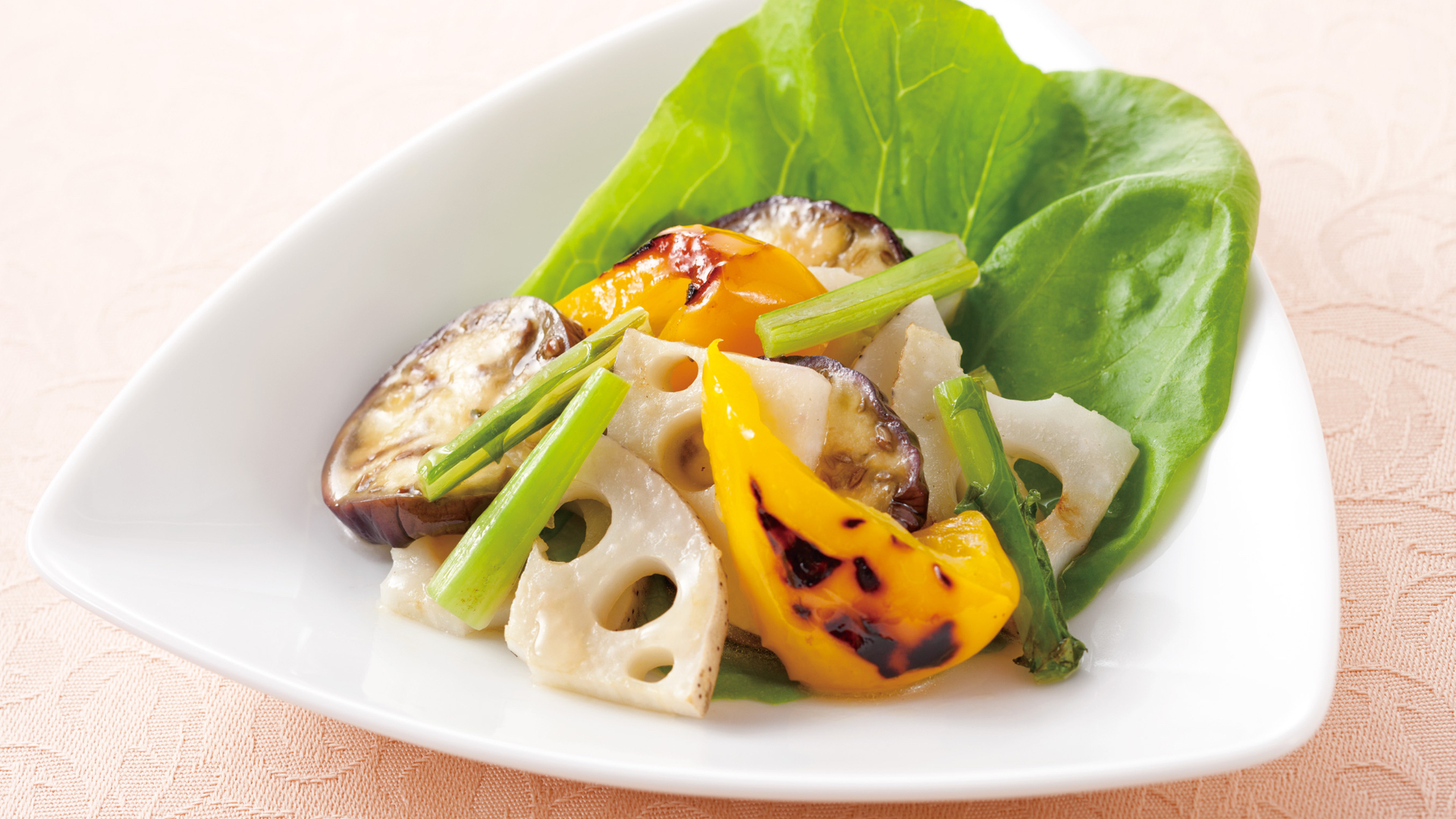 09 Apr

【Easy way to make Italian dish using fresh ingredients】Grilled vegetables marinated in honey
Use the grill to cook alongside the dessert in the next page.
The slight sweetness of the honey enhances the delicious flavor of vegetables!
【Ingredients】6 servings
【Cooking time】15 minutes
【Energy】 50kcal per serving
Bell pepper (yellow) 1/2
Eggplant 1
Lotus root 100g
Turnip stem 50g
Olive oil 1 tablespoon
[A]
White wine vinegar 2 tablespoons
Honey 1 tablespoon
Salt 1⁄2 teaspoon
Pepper To taste
Boston lettuce 6 leaves
Cut off the top and remove seeds from the bell pepper, then chop into strips. Remove the top of the eggplant and cut into 5mm round slices. Quarter the lotus root into 5mm slices. Cut the turnip stems into strips 3cm in length.
Pour olive oil over step 1, cover with tin foil cut to be 3cm smaller than the grill's circumference, then grill. Grill both sides without water on a strong heat for eight minutes.
Mix part A together and pour over step 2. Serve on a plate with leaves of the Boston lettuce.
【Tokyo Gas Cooking Class】 Tokyo Gas provides the gas every kitchen needs to cook a good meal. Our mission is to enrich your life through the art of cooking.
The three essentials of Tokyo Gas Cooking Class
Each cooking class is an independent, stand-alone class. You can try out a recipe whenever you have some free time.
We believe that anyone can experience the joy of cooking.
Our lessons can teach you new things about Japanese culture and its aesthetics, time-saving recipes, eco-cooking, bread baking, sweets and more.
※ Classes are conducted in Japanese only.
※Precautions for using gas stoves, grills and ovens
・ Always turn the ventilation fan on.
・ Read the instruction manual carefully to use the equipment correctly and safely.