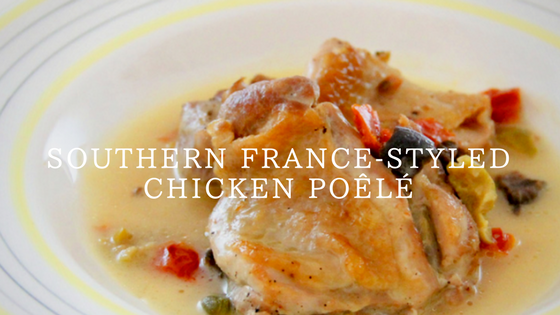 25 Apr

Bistro Dish: Southern France-Styled Chicken Poêlé

An indulgent, juicy chicken dish topped off with a flavorful sauce made from olives, anchovies, and dried tomatoes.
---
279 kcal per serving
Cooking time: 15 minutes
INGREDIENTS FOR 4 SERVINGS
2 chicken thighs
Salt
Black pepper
[A]
½ cup of white wine
4 olives
8 g of dried tomato (oil pickled)
½ tbsp. caper
3 g of anchovies
¾ cup of water
COOKING INSTRUCTIONS
(1) Cut each chicken thigh into four equal parts and season with salt and pepper. Remove the seeds from the olives. Roughly chop dried tomatoes and anchovies.
(2) Place the chicken thighs in a frying pan with the skin down. Cover the pan and bake at 180℃. Once the chicken thighs cook to a golden brown, flip and add the ingredients from section A. Cook until alcohol is evaporated. Add water and cover the pan again, and simmer for 5 minutes on medium heat. Salt and pepper to taste.
NOTES
Because the amount of salt in dried tomatoes varies, adjust the amount of salt added to taste.
---
Courtesy of Tokyo Gas Food Information Center