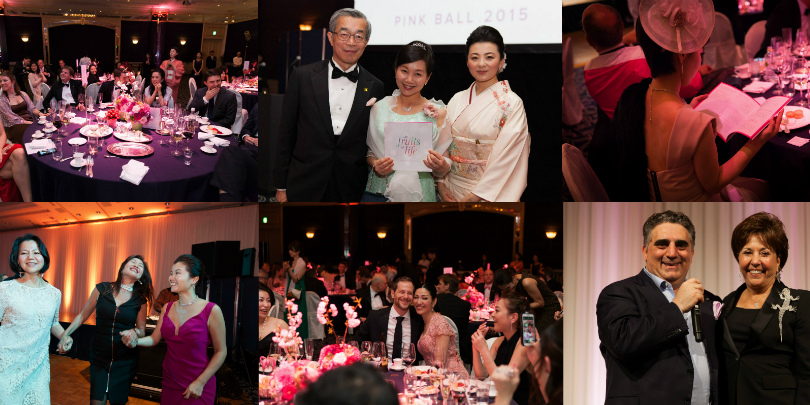 25 Apr

Pink Ball 2015 Report
Gourmet food, entertainment and fancy prizes, all in the name of a serious cause. That was Pink Ball 2015, the annual black-tie gala dedicated to fighting breast cancer, the leading cause of cancer death among women worldwide.
With this year's theme being the Fruits of Life, Pink Ball 2015 brought together survivors, their families, people who have lost loved ones and others who share the commitment to wiping out this life-threatening disease.
"We've been supporting this event for a long time: since 2006, or just after," said Roger Lewis of Bloomberg Japan. "Diversity is important and women make up an important part of our business. So it's important that we pay attention to all the considerations that affect them."
This year's attendees enjoyed a sumptuous, five-course meal prepared by guest chef Kevin Paul Connell. Originally from New York and now based in Las Vegas, Connell first came to Japan to work at the Tokyo American Club.
The featured musical artist this year was "Give 6", a group created just for the occasion. Walking into the grand ballroom casually, they surprised everyone by suddenly starting to sing. Equally entertaining were Wakaiko's world famous Tenrindaiko group and DJ Silverfox, who kept the crowd dancing late into the evening. The goal of Pink Ball is to raise awareness of diagnosis and treatment for women in Japan, where the mortality rate has increased more than 7.5 times over the last half century. In her keynote address, Run for the Cure® founder Vickie Paradise Green talked about her own personal survival journey and how dealing with breast cancer changed her life.
"It hasn't always been fun and it certainly hasn't been easy, but I feel that I am a better person for it," said Green. "I can now say that my life is better because of my breast cancer experience.
"Though I wouldn't wish it for anyone, I believe I appreciate my life in a completely new and better way because I faced breast cancer and was lucky enough to survive."
Pointing out that breast cancer is not gender specific—with 2,240 men being diagnosed last year worldwide— Green focused on the positives: that five-year survival rates for breast cancer patients have jumped to 90% from 75% over a three-decade period. However, she added that more work is needed to push survival rates and patient quality of life even higher.
Green also highlighted a revolutionary new drug announced this year by Pfizer called Ibrance, which operates on an entirely new pathway.
"The drug is designed to block the specific enzymes that are critical to the cell division process of a tumor," said Green. "Blocking this cell division could slow or halt tumor growth. The combination of these two drugs is a potential game changer that will transform the standard of care."
Green went on to thank survivors Ayako Mizoguchi, Bryony Dunlop, and Mika Kume for telling their stories and acting as role models for new cancer patients.
"It's going to be hard, but you will make it through," said Mizoguchi.
"Find something else to focus on—don't make your life all about your cancer." "You can beat this," added Kume. "Find doctors and surgeons you really trust, and don't be afraid to be assertive in your medical care."
Support for Pink Ball comes from many leading companies in Tokyo including Diavante, Delta, Turkish and United airlines, Starwood Hotels, Aflac, New Balance, U. GOTO Florist, The Westin Tokyo and Elio Locanda Italiana. Their generosity—and that of Pink Ball guests—helps fund Foundation activities including a new self-examination educational initiative called The Lemon Project, the purchase of mammography machines across Japan, and breast cancer screenings. So far, the Foundation has provided six mammography machines and funded more than 4,000 screenings for women on government assistance.
"It's a terrible disease and anything we can do to fight it [we should do]," said Andrew Soringthorpe of SPC Group. "We've been supporting [this] for quite some time."
"I think awareness is very important," he added. "The earlier you can pick it up, the better. There are far too many cases of people discovering far too late that they have breast cancer, which is shocking in this day and age."
"I think awareness is important across the board," agreed Bloomberg's Lewis. "Prevention and also detection are important too. In a country like Japan, [these] probably tend to get overlooked; in other countries they tend to be a little more focused on these types of issues.
"The more that you draw attention to it, the better it is for everyone."