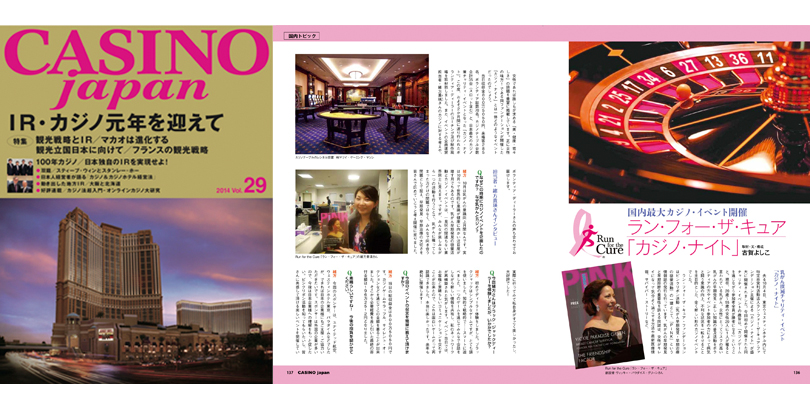 03 Apr

Casino Night Introduced in Magazine

Run for the Cure® Foundation's first Casino Night, which took place on October 4th, 2013, was featured in Casino Japan, issue 29. The article introduced the event, shared the voices of volunteers, and more.

This year's Casino Night is scheduled for Friday, October 17th, from 6:30 p.m. Participation helps raise funds for the Foundation's broad community outreach programs.

Proceeds from this event help sustain our ability to publish the seasonal PiNK magazine, one of our most important awareness tools that is available in Japan for free, providing the latest information about breast cancer treatment, and related health and lifestyle topics in Japanese and English. Your contributions also assist to develop and implement The Lemon Project, our newest awareness initiative to educate and empower women in Japan through seminars that explain about the critical signs of breast cancer through self-diagnosis.

* The initial amount of chips you receive for the games is determined by the level of your donation for the event (e.g., 10,000 yen donation = 10,000 yen worth of chips).
* The chips you win at the gaming tables are all exchanged for raffle tickets only on the night.